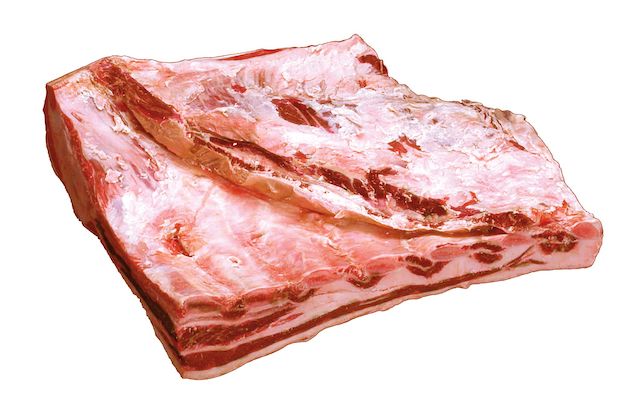 Welcome back to Beef 101! In this post, we're delving into the plate section of the cow, which is located below the rib section and consists of some lesser-known yet incredibly delicious cuts. These cuts offer a unique blend of flavors and textures that are perfect for various cooking methods. We'll be focusing on six cuts from the plate section: skirt steak, hanger steak, plate ribs, dino ribs, Korean-style ribs, and navel. Let's dive into the details of each cut and their recommended cooking techniques.

Skirt Steak: This long, thin cut comes from the diaphragm muscle of the cow. It's known for its intense beefy flavor and slightly chewy texture. The skirt steak is perfect for marinating (except for Wagyu), grilling, or pan-searing, and is often used in dishes like fajitas, stir-fries, or salads.

Hanger Steak: Also known as the "butcher's steak" or "onglet," the hanger steak is a single muscle that hangs between the rib and loin sections. It's prized for its tenderness and rich flavor. Hanger steak is best marinated (except for Wagyu), grilled, or pan-seared to medium-rare or medium to maintain its tenderness.

Plate Ribs: These large, meaty ribs come from the front part of the plate section, and are usually sold as a whole rack or cut into individual ribs. Plate ribs are best prepared using slow cooking methods like smoking, braising, or oven-roasting, which break down the connective tissue and result in tender, flavorful meat.

Dino Ribs: Also known as "beef short ribs," dino ribs are cut from the plate section and are known for their large, meaty appearance. They're perfect for slow cooking methods like smoking or braising, which help to tenderize the meat and create a rich, succulent dish.

Korean-Style Ribs: These thinly-sliced, cross-cut beef short ribs are marinated in a sweet and savory sauce, then quickly grilled or broiled for a delicious, tender result. Remember not to marinate Wagyu, as it's already tender and flavorful.

Navel: The navel is a fatty, flavorful cut from the lower plate section, often used for making pastrami or slow-cooked barbecue dishes. It's best prepared using slow cooking methods like smoking or braising, which render the fat and create a tender, flavorful dish.

The plate section may not be as well-known as other sections, but it offers a diverse range of flavors and textures that are worth exploring. Whether you're craving the intense flavor of a skirt steak or the tender, slow-cooked goodness of dino ribs, the plate section has something for everyone. Now it's time to gather your cooking tools, fire up the grill or preheat the oven, and savor the delectable flavors these cuts have to offer. Happy cooking!
Brisket Kings 101

Welcome back to Beef 101! Today's post is all about the beloved brisket, a favorite cut among barbecue lovers and pitmasters. 

Loin 101

Today, we'll be venturing into the loin section of the cow, which is known for some of the most tender and sought-after cuts of beef.